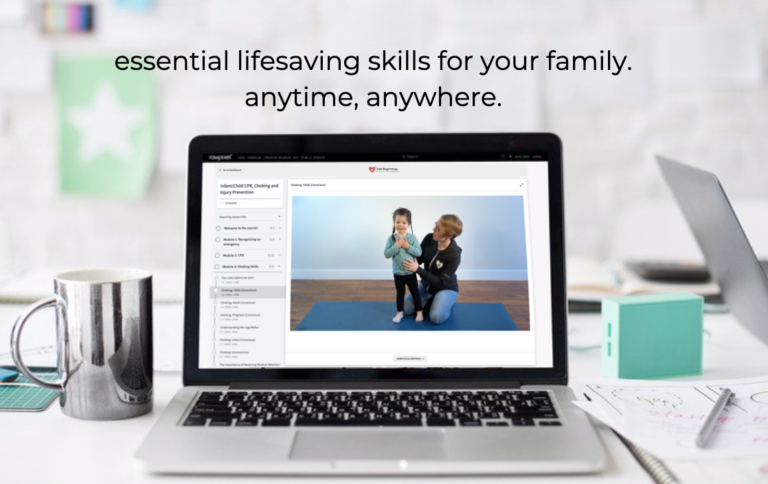 Learn the essentials - anytime, anywhere.
Our at-your-own-pace video-based online course is an adaptation of our popular 2-hour Infant/Child CPR course. 
This course is perfect for parents and caregivers who want lifesaving knowledge but don't require a first aid certificate. We'll give you the confidence to manage emergencies for infants and children, and the know-how to prevent many of them from occurring in the first place.
This course has been transcribed and can now be optionally viewed with in-video captions to provide access to the deaf and hard-of-hearing community.
Know what to do if an infant or child:
Goes unconscious
Stops breathing
Begins to choke
Followed by a thorough discussion on injury prevention for small children.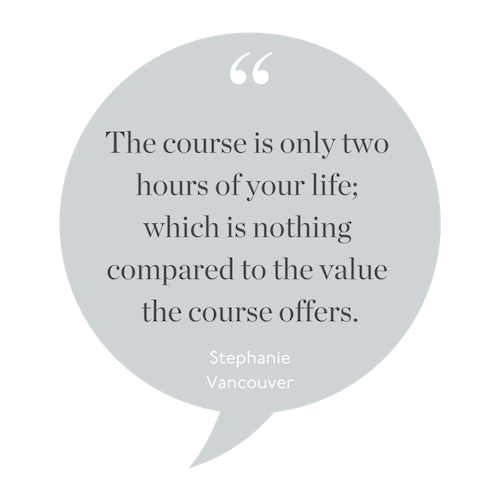 Our course includes access to our carefully curated Digital Course Package.
Feeling distracted? That's okay! This course can be completed at-your-own pace, and may be paused and resumed at your convenience.
This course is lead by Holly Choi and Jill Colpitts, two of Canada's top first aid instructors, and recognized leaders in the child injury prevention field.
Get started today
Receive lifetime access to our popular eCourse
Frequently Asked Questions
Will I receive certification?
No certification is awarded. We provide a proof-of-participation, but this is not a substitute for certification. Recognized first aid certifications begin at the 4-hour level and require in-person skills assessment. If you are in need of certification, please check out our in-person 5-hour First Aid for the Infant and Toddler Years course which includes CPR-C/AED certification.
What system requirements are needed to watch the course?
The course works on most devices – phone, tablet or computer.
Specifically, your phone, tablet or computer must be able to run one of the following web browsers:
Phone or Tablet: iOS Safari (version 11 and up), Chrome, or Samsung Internet
Desktop: Firefox, Safari, Chrome, Edge, or Internet Explorer (version 11 only)
Does this course meet the needs for the adoption process?
In many cases, yes – However, please check with your adoption agency before purchasing the course. The adoption agency is also welcome to contact us directly, to help verify if the course meets their requirements. Proof of participation is only awarded upon 100% completion of the course.
My partner and I both need proof of participation, do we need to purchase the course twice?
Yes, the pricing is based per participant. Each purchase should be logged under an individual's name, and only that name will be tied to the proof of participation.
I live in the Vancouver area, should I take the online course or join one of your public courses locally?
We strongly believe that the best way to learn is by doing, and the value of hands-on practice and development of muscle memory can never be replaced by watching a video. If you are able to join one of our many public courses across the Greater Vancouver area (and often beyond!), we strongly encourage doing so. Not only will you be able to practice the skills on professional equipment, but you'll be able to interact with us directly, in person.
I'm thinking of trying Baby-Led Weaning – should I take this course?
YES! Infant CPR courses are a MUST for caregivers hoping to feed infants using the baby-led weaning concept. We'll give you the confidence to handle any choking scenario that may arise.
Do you offer bulk discounts to organizations?
Absolutely! Get in touch with us at online@safebeginnings.ca and we'll get you set up!
How many people can access the course from my account?
This course is intended to be purchased on a per-individual basis. Safe Beginnings First Aid reserves the right to disable access to the course without warning for accounts accessing the course from several IP addresses, and/or multiple devices accessing the course simultaneously.
Which course is right for me?
Check out our courses page that explains the difference between all our unique courses.
Still not sure? Let us know what your needs are, and we're happy to recommend the best course for your current situation.