This has been a frequently requested review, and I've finally got my hands on the new SlumberPod 2.0!
Note: I haven't checked out the original SlumberPod, so this review is purely based on the current version available, SlumberPod 2.0
First off: thank you to SlumberPod for their willingness to gift me a SlumberPod for review. I am not one to recommend a product without trying it first, and I can now speak to it after some hands-on experience.
SlumberPod is a portable blackout canopy that slips over a travel crib to provide a dark, breathable sleep space for a child while on the go (or if you live in a small space). Knowing that a dark room leads to better sleep, sometimes getting in that nap while visiting grandparents or in a hotel room becomes challenging when there's daylight or adults need to use the space with the lights on during sleeping times. SlumberPod helps achieve this while keeping the space breathable.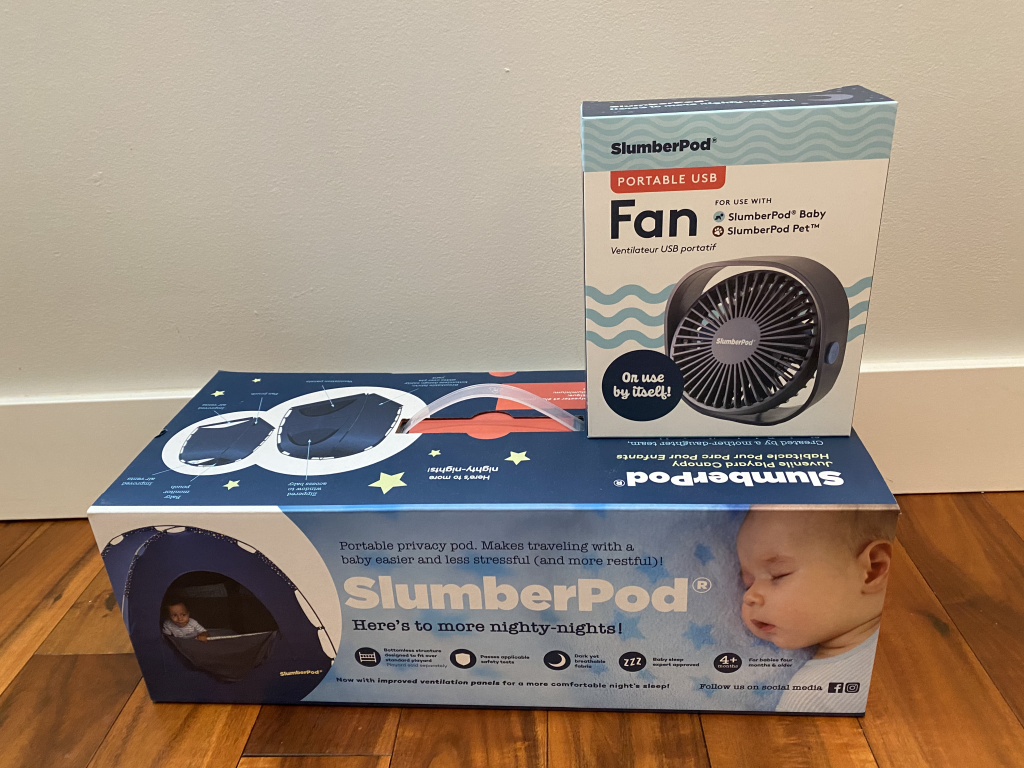 First: Do your due diligence and read the instructions and warnings thoroughly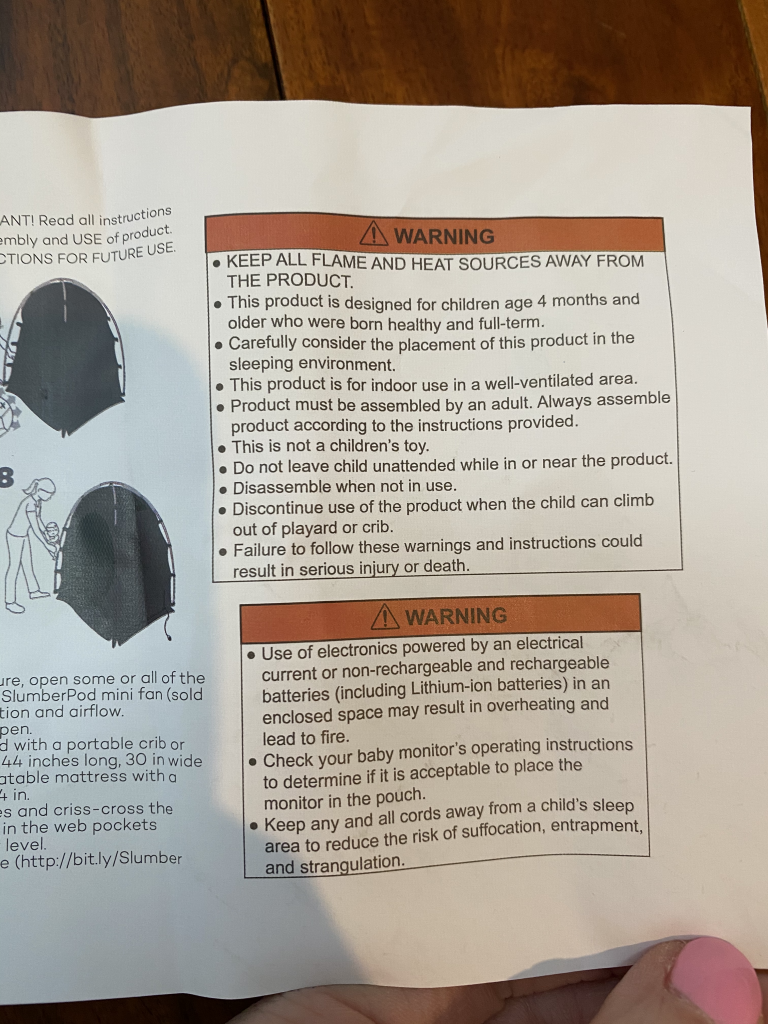 To reduce SIDS risk, the SlumberPod should not be used with children under the age of 4 months, children who were born preterm/premature, or families who have a history of SIDS related death.
It is also designed to be used in an indoor, climate-controlled environment (not outdoors, not for camping) and in a well-ventilated area. 
SlumberPod lists a number of compatible travel cribs on their website. Before purchasing a SlumberPod I highly recommend you check this list out and ensure you have appropriate equipment. If it's not on the list, it may not be safe to use. SlumberPod is also not designed to fit over a standard sized crib, but it does work with many mini-cribs. For reference, I am using the BabyBjorn Travel Crib.
SlumberPod comes in a shockingly small box. The pod itself rolls up into a convenient soft carrying case, making for easy packing if going on an overnight trip. It's compact enough that it can fit inside a carry-on suitcase, need be!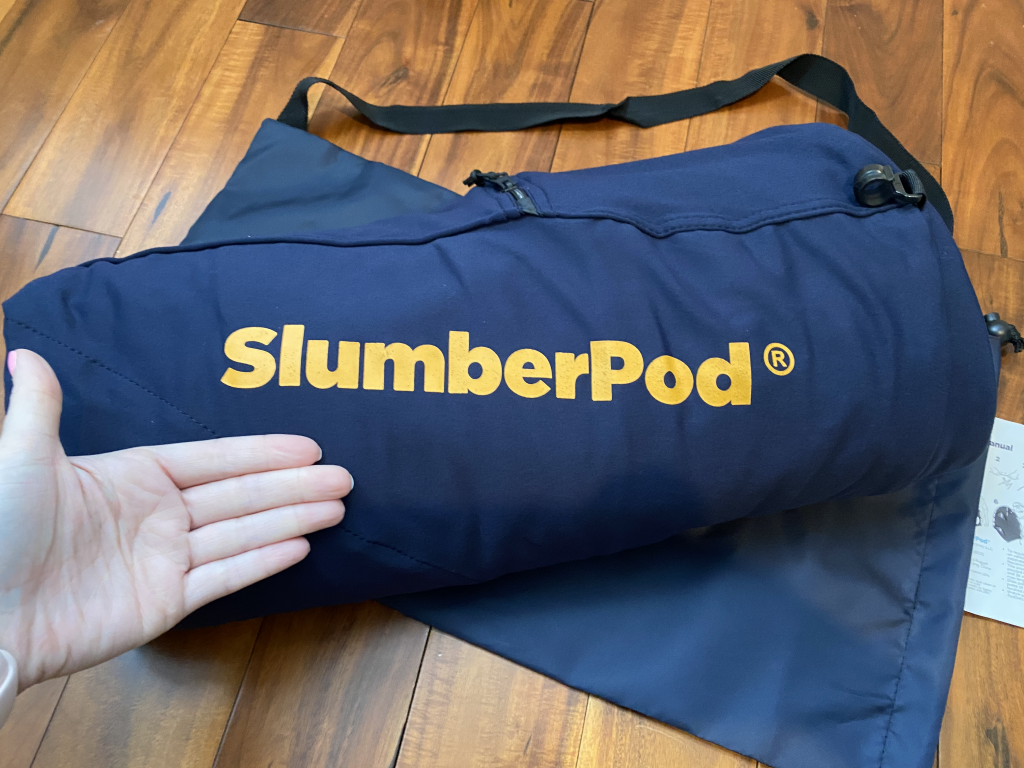 I also received the accompanying SlumberPod Fan – note that this is not included in the box, but can be purchased as a bundled item. The fan is USB powered and requires a USB power source. While it does have a cable, the cable remains on the outside of the pod and does not insert any cords inside the pod itself, keeping the area free of cord hazards. The zippered pouch for the fan is mesh inside, and the design of the fan keeps the blades away from the mesh. This allows for lots of extra airflow while keeping the light (and cords) out.
Setup was a snap. It took me about 3 minutes to get the canopy set up over top of the travel crib. 
I will admit, I actually crawled inside because I wanted to know if it was truly a blackout situation. It most definitely is. If you come over to my house and can't find me, I might be meditating inside the SlumberPod. Fair warning.
There are additional airflow panels that can be opened on the SlumberPod, which when you do so, is no longer a true blackout environment. However, the idea is you get the child into their travel crib, close up the pod, turn off the lights and THEN open the panels. If the lights can't be turned off, fair enough — but I would recommend using a baby monitor for added safety and peace of mind if you're not going to open the additional panels.
Let's talk about the safety testing
SlumberPod passes all the applicable consumer product safety tests for baby products. In addition, SlumberPod was tested in an independent laboratory (non-biased) who hired their own physician (again, non-biased) to assess the SlumberPod for CO2 rebreathing risk (a contributing factor to SIDS). The assessment concluded the risk was low. 
SlumberPod also has some additional safety features in mind when it comes to airflow to further reduce this risk. There's 4 additional panels on the SlumberPod (think mesh windows) that can be opened to increased airflow. There is also, as mentioned above, a pouch for a fan for even more air circulation. 
If you're concerned that you won't be able to monitor your baby or toddler while inside the SlumberPod, you definitely can! They also created a pouch at the top of the canopy that is lined with clear vinyl, so that you can install a baby monitor pointing down above the sleep space. Just like the fan, the cords remain outside the pouch and outside of the sleep space. The pouch also has mesh sides so that the monitor has some airflow (some monitors can get hot, so this is important to note).  SlumberPod also has a list of compatible baby monitors on their website, if you want to check that out ahead of time.
Another safety note: like any sleep environment, it's important children aren't overheating. If a child is sweating while sleeping alone on a safe sleep surface, they're too hot and you need to start peeling layers off. This is another reason the SlumberPod is meant for climate-controlled environments, and not to be put out on the front porch in the sun, or used for camping.
I love this product and plan to use it with my younger daughter for our (hopefully upcoming) travel this year. This product is great for toddlers struggling with room sharing while travelling or visiting relatives, especially with toddlers 12-36m, provided they can't climb out of the travel crib before then.
There is always some risk when we add something to a baby's sleep space, but if following the instructions and recommended travel cribs to-a-T, SlumberPod's analysis concludes the risk is low. If you have a child who is high SIDS risk (preterm, still under 4 months of age, or have a family history of SIDS), this product is not for you.

I would encourage parents to make use of the baby monitor pouch for added peace of mind and safety, especially if you choose not to open the additional airflow panels. SlumberPod is not meant to be used unattended, so you should have a plan in place to monitor the child at all times; whether that's using a baby monitor or being in the same room.
As with all my education, my advice to parents is to read the safety information in advance so you can understand the risks, weigh the risks and benefits, and make your choices from there.
If you're interested in purchasing SlumberPod, they have generously supplied our community with a coupon code for $20 off: SAFEBEGINNINGS20
To learn more about SlumberPod, visit their website, here.