First, a quick back-story.
Winter is here and questions about car seat safe winter gear are filling my inbox daily. 
Today I'm thrilled to share with you a review of a personal favourite of mine – the Buckle Me Baby car seat coat. 
Despite the stereotypes of Canadian winters, here where I live in Vancouver, BC the winters are VERY mild. We dip below freezing just ever-so-slightly, and we're lucky if we see snow once or twice each winter. Typically most children in my area can get through the winter wearing a light fleece jacket, some mittens and a hat. However – if you're an outdoorsy type, live in a colder climate or seek out snow any chance you get, you've probably wondered how to best keep your little one warm AND safe in the car seat.
I've been a certified Child Passenger Safety Technician (CPST) since late 2015, and Child Passenger Safety Technician-Instructor (CPST-I) since late 2017. I know first-hand what an ordeal finding a car seat safe coat can be for parents, and I often see children overdressed for their car seat when they arrive for a car seat check. 
What's the risk of a puffy coat, though?
Wearing thick clothing in car seats can lead to the harness appearing falsely tight. Unfortunately, many of us don't realize that until crash forces are introduced. Thick winter clothing can lead to ejection from a car seat.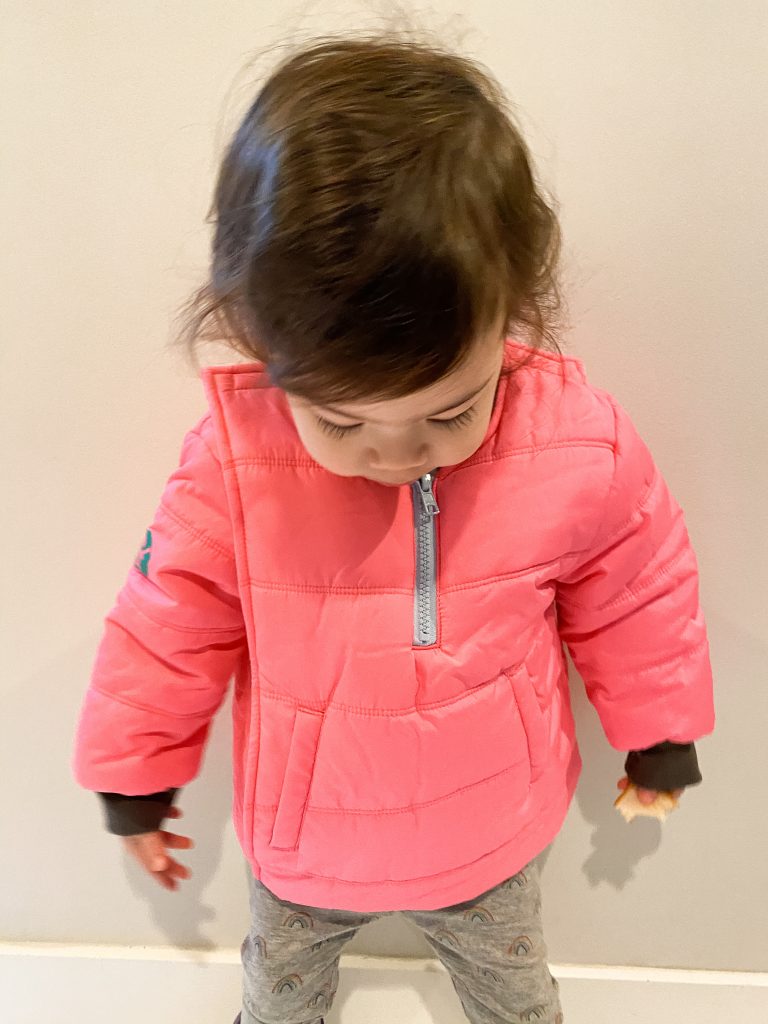 My 2-year-old wearing a size 24M Buckle Me Baby "Toasty" coat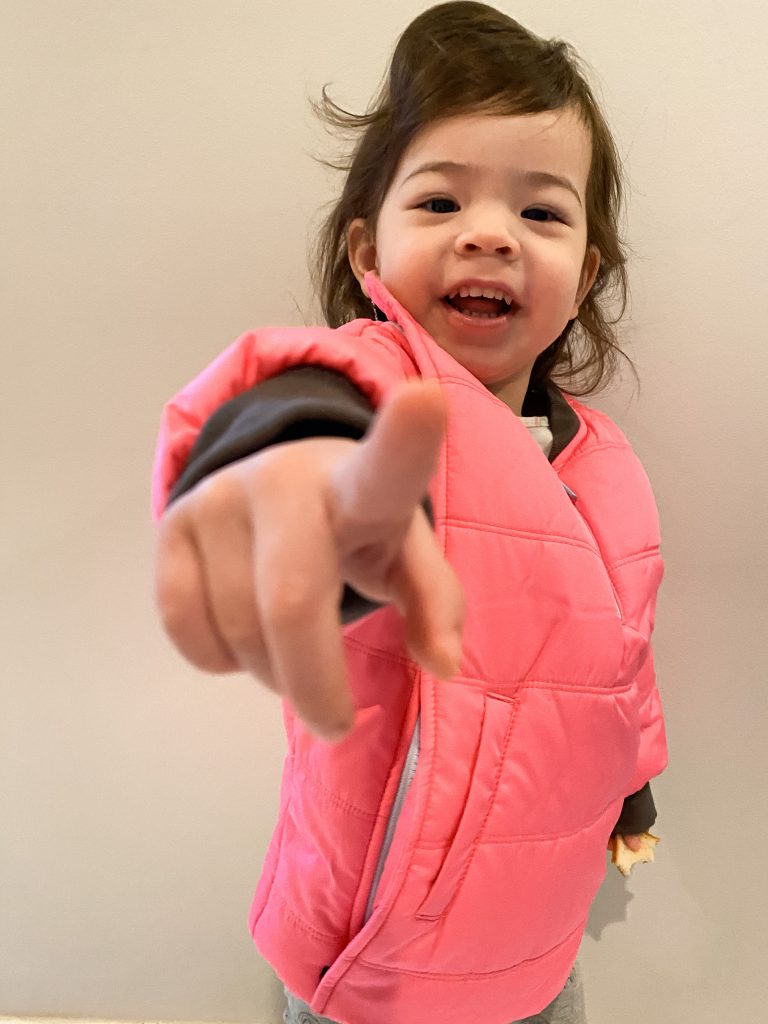 The coat zips on the side to make harnessing a child into their car seat quick and painless.
Enter the Buckle Me Baby coat. I was lucky enough to receive one of these coats directly from the BMB founder, Dahlia, and we've been using it for a number of weeks, now. (I will take a moment to note that she asked for nothing in return and I'm absolutely writing this because I truly believe this is an AWESOME product.)
My daughter, pictured, is 2y9m and 25 lbs: a tiny peanut, for sure. She's wearing a size 24M "Toasty" which fits very generously at her small size, but these coats are made purposefully with arms that fit a little bit long, so that your little one can grow with the coat over two winter seasons (hopefully). Knowing my own kids being on the small end of the spectrum, we may even get three years out of it.
The "Toasty" is the least warm of all the coats, and I chose this one on purpose because of our weather here in Vancouver. If you live somewhere colder, Buckle Me Baby offers three styles: Toasty, Toastier and Toastiest. There's a full comparison on the website, here. 
Okay, so how does it work?
It's ingenious, really!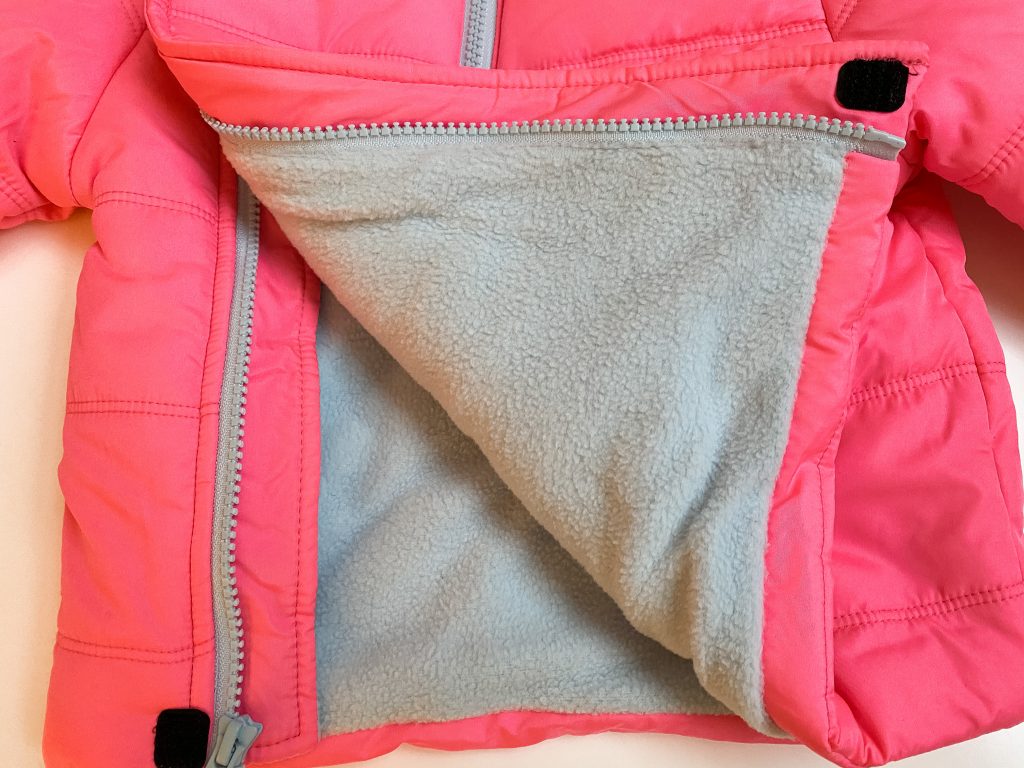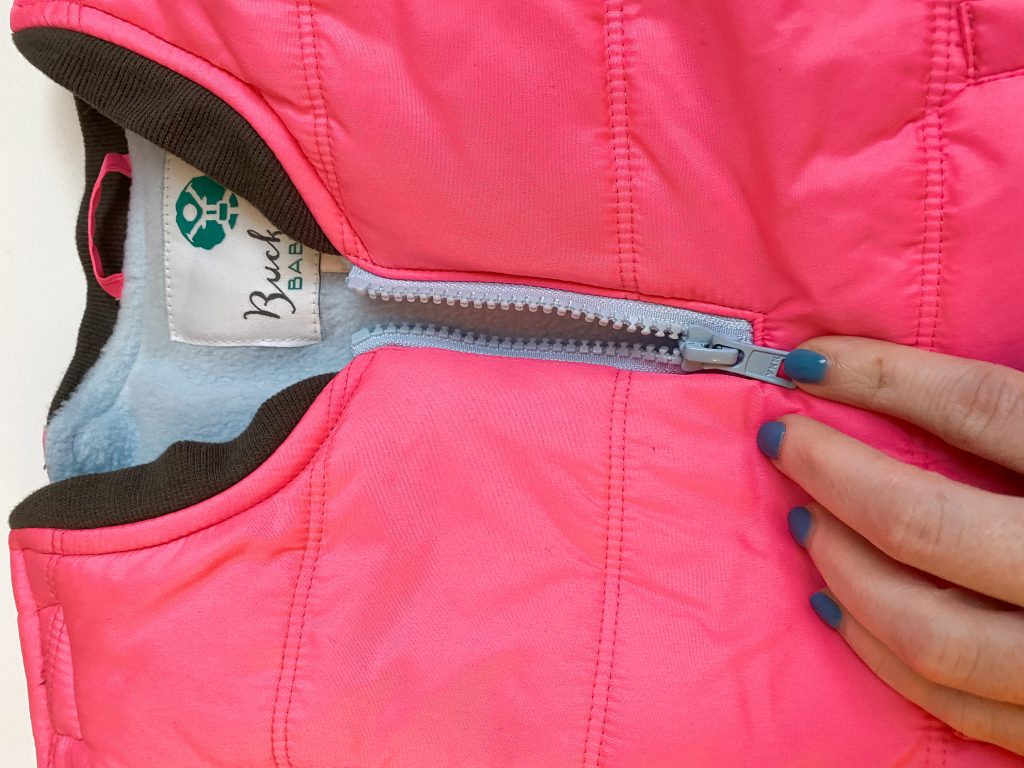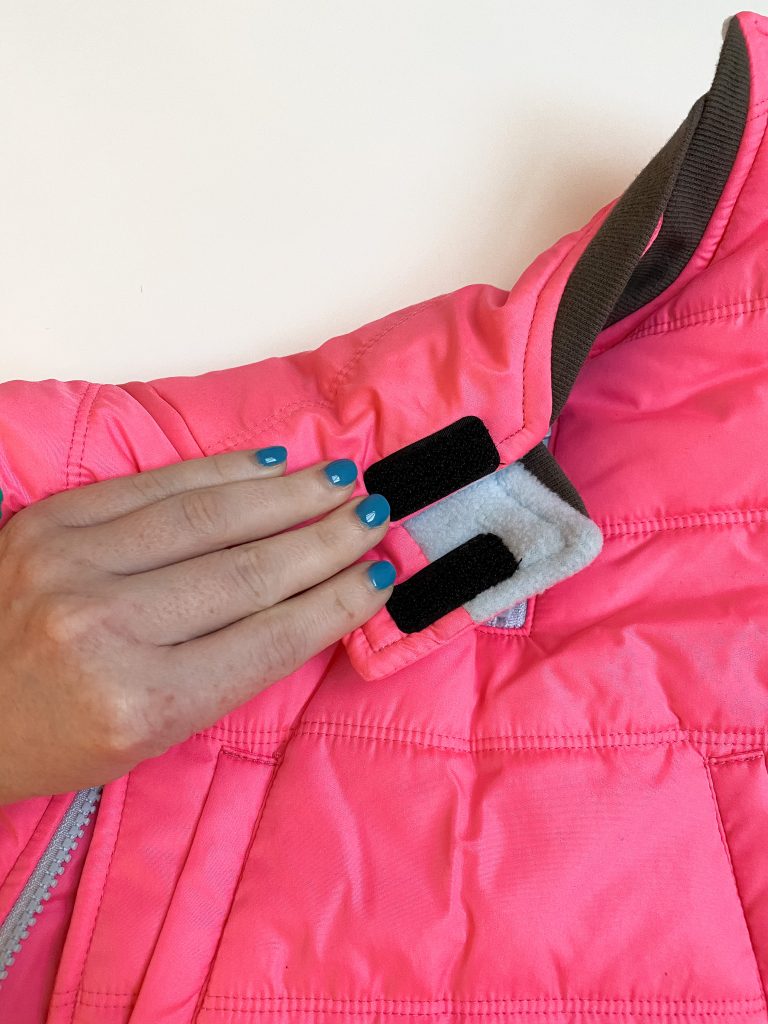 The coat zips open on the left side. In the vehicle, you'd leave it unzipped. The velcro fastenings at the top and bottom of the zipper help keep the coat closed while the child's in their car seat, but allows for the child to be pulled out quickly in an emergency without worrying about the zipper trapping them in the seat. The coat also has a zipper near the neck to give picky children some breathing room if they don't like the feel of a coat near their neck.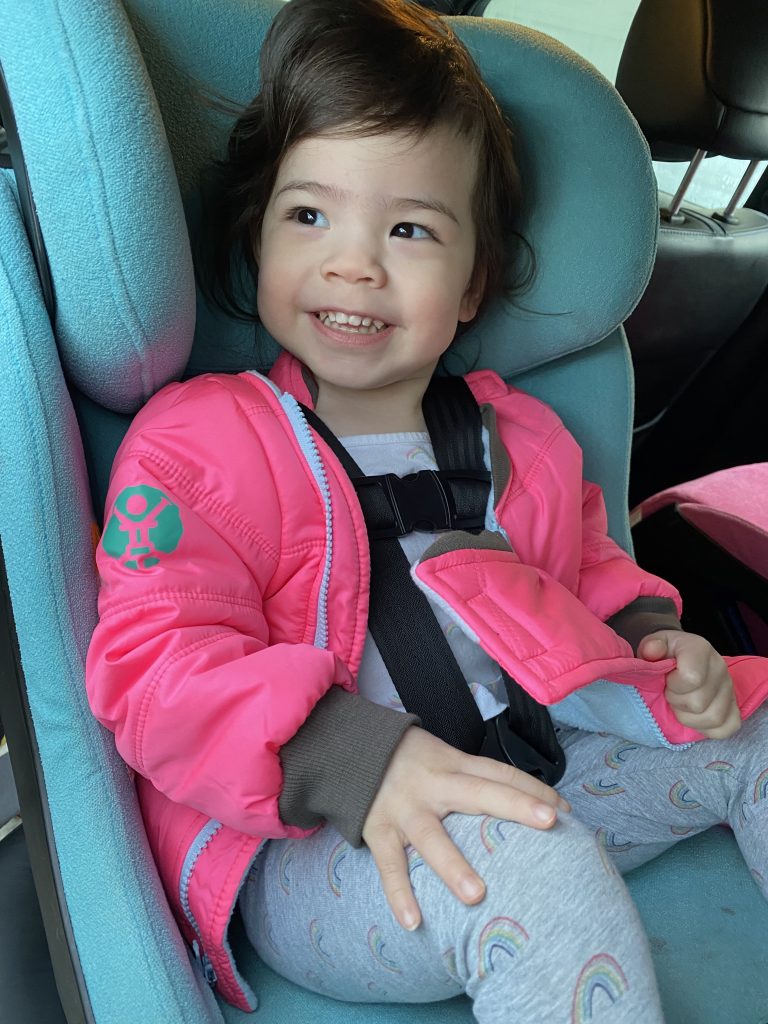 The first step is to get your child into the car seat, and with the coat open, do up the harness nice and snug (as in the photo). This allows the harness to be tight to the child's body and prevent the typical problem a normal 'puffy' coat would cause.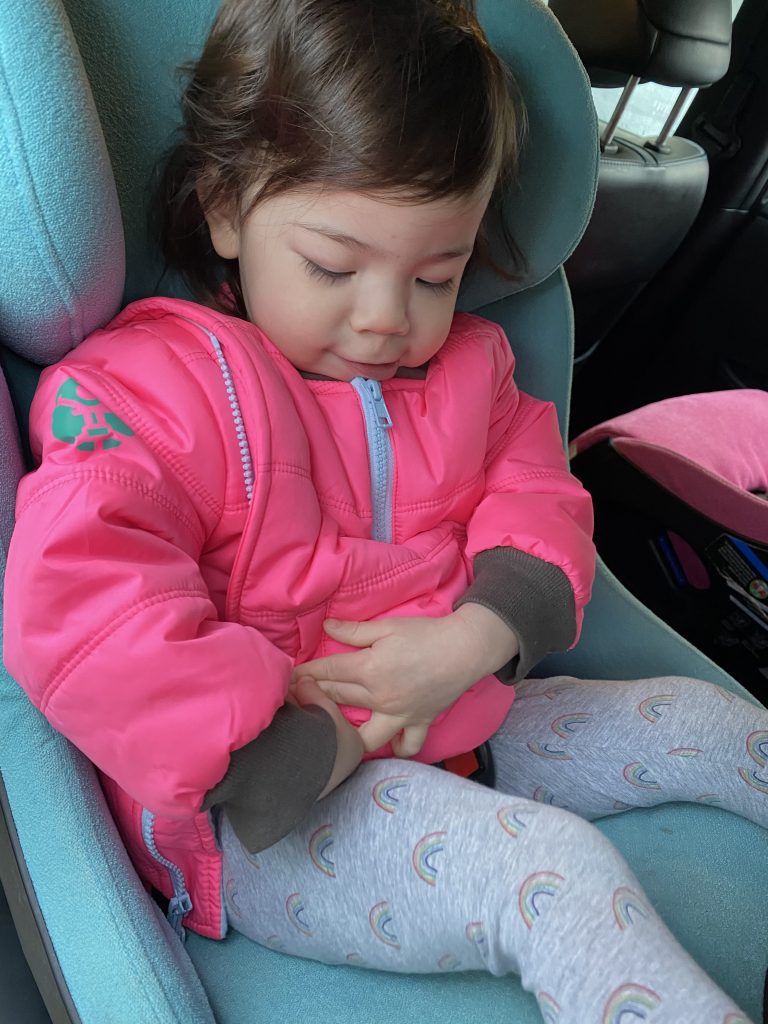 Then, once the harness is tightened, you velcro the top and bottom of the coat where the zipper is. Leaving the zipper undone means you can easily get the child in and out of their car seat when your trip is done, or in an emergency. Once out of the car, simply zip the coat up!
Final verdict
This coat is such a time saver. I can say that this coat has made our lives on-the-go a lot easier as the temperatures drop. Daycare drop-off and pick-up are so much easier with this handy coat in our parenting toolkit. For those of you who live in places where snow is a regular occurrence, this is an easy way to keep your little ones warm on the way to and from the car; without the worry of a coat being too puffy for the car seat.
Thanks to Dahlia at Buckle Me Baby, we have a special savings code for our readers and Instagram followers – use code SAFEBEGINNINGS21 for $10 off your very own Buckle Me Baby car seat coat!
This post contains an affiliate link that we may earn commission from. This income supports our public education initiatives via social media.